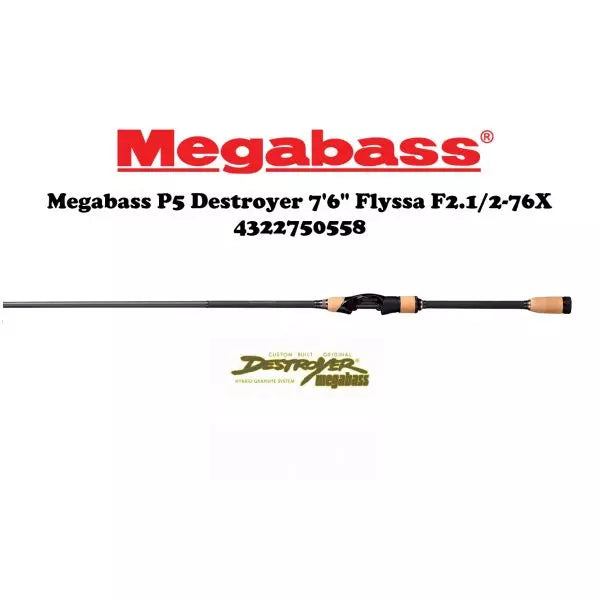 Megabass Destroyer SP P5 USA F2.5-76XS Flyssa Spinning Rod
---
In stock, ready to ship

Inventory on the way
F2.1/2-76XS FLYSSA - Renowned for its light and sensitive blank, FLYSSA is designed to manage light line applications with quiet confidence. Developed primarily for finesse swimbaits and hair jigs, FLYSSA's 5-D construction also exhibits the kind of sensitivity and silky-smooth load transfer that excels in pressured deep-water situations.
| | | | | |
| --- | --- | --- | --- | --- |
| Taper | Line Wt. | Lure Wt. | Guides | Handle Length |
| Fast | 4-10lb | 1/16-3/8oz | 7+Tip | 13-1/4" |
First released in Japan in 1996, the Destroyer series ushered in an era of unrivaled performance, innovation, and craftsmanship that reverberated throughout the angling world. Built to Japanese angling specifications, each generation of Destroyer represented an evolution in Megabass rod design, allowing anglers across Japan to realize ever-greater potential with every cast. Harnessing this design evolution, the all-new Megabass Destroyer (USA) Spinning Rods are crafted exclusively for North American anglers. Each model is a careful refinement of key American bass fishing techniques which have been tirelessly honed by Megabass rod designers that have gained insight through thirty years of innovation across virtually every lure type and category.
Built using a proprietary 5D Graphite System which integrates carbon of varying modulus into a single blank, the optimal grade for each bend point creates a 'Hybrid' construction that is effortlessly suited for the task at hand. The exquisite contours of the MBCS reel seat are reinforced by an internal structure that ensures maximum strength and rigidity with minimal weight, and the exposed blank section allows for palming contact to deliver the intuitive feel required by finesse anglers. Finished with Fuji Titanium SiC guides for incredible sensitivity, the Megabass Destroyer (USA) Spinning Rods offer the best available materials and components, patented advancements, and proprietary blank builds and tapers. Choose your weapons wisely.
Key Features:
MBCS - Featuring a curved shape that is a marriage of structural integrity and human form, the MBCS spinning reel seat rises from the blank to fit perfectly into the palm. This ergonomic fit not only increases grip and leverage for rod work and fighting fish, it transmits feedback by maximizing contact points between the angler and equipment. Further, the palming grip encouraged by the MBCS is an anchor against torsional force, enabling greater control.
3D Dynamics Performance Grip – Inspired by pro anglers in the top echelons of the world's oldest and toughest bass fishing circuit, the BASS Elite Series, Megabass 3D Dynamics strives towards a more perfect union of angler and equipment. Each hand-formed carbon fiber handle provides comfortable contours for enhanced grip ergonomics and superior vibration transmission properties.
Destroyer 3D Emblem - If you look closely, the brand-new Destroyer logo has been renewed. Once again, the new logo was painted by Yuki Ito with his brush, refreshing the core philosophy of the series. The new emblem is crafted from a three-dimensional solid plate, with artwork overlaid on each blank to reflect the depth of Destroyer history.
Destroyer Original Tight Threading Fuji Titanium Frame SiC-S Guide - To further reduce unnecessary weight and improve performance, the Destroyer utilizes a smaller-diameter thread made of special fiber, which allows for tighter, more effective guide wraps. This not only minimizes the wrap area and associated epoxy to reduce weight, but it also minimizes any negative impact that hard epoxy guide wraps can have on the natural bend-curve of the blank. The result is a smoother, more intuitive blank with minimalistic threading for maximum strength and performance.
End Balancer - Weight-saving improvements in blank construction, thread wrapping method, reel seat, and head locker design result in a lighter rod, which allows for lighter counterweights to achieve the ideal "Takumi" balance for each application. The shining gold end cap emblem of previous generations has been updated to an understated "Bronze Meteo" finish.
5D Graphite System - The 5D system is designed with five performance-optimized panels: #1 for high tension in the longitudinal direction, #2 for 45-degree torsional rigidity to the right, #3 for 45-degree torsional rigidity to the left, #4 for lateral stiffness, and #5 for high longitudinal elasticity. The five panels are then painstakingly arranged to maximize and integrate the distinct performance characteristics of each panel into a cohesive whole, forming a completed puzzle that reduces the unnecessary prepreg overlap of traditional patterning and layering. This not only reduces material waste; it allows for a smoother and more precise taper, seamless load transition, and a wellspring of power for intuitive outperformance.
Destroyer Head Locking System 3 - Based on the machined-aluminum head-locking structure developed in the LAIHA concept project, the new Destroyer HEAD LOCKING SYSTEM 3 is optimized for production status. The structure is the lightest of all Destroyer series to date, minimizing any potential interference in blank resonance and vibration transmission through the reel, in addition to highlighting the purpose-built elegance of each rod model.